Cardi B Goes Fully Nude (& Fully Crazy) In NSFW 'Press' Music Video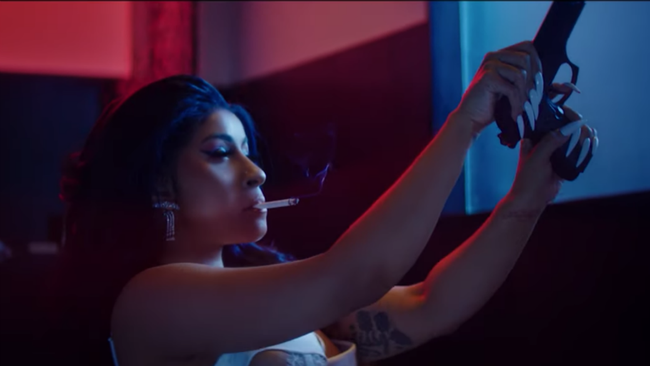 TBH — I don't even know where to begin when it comes to Cardi B's "Press" music video.
From its endless nude dancing scenes to its steamy menage-a-trois opening to its multiple murder scenes, it seems like Cardi is making it clear that she's not running away from the gossip and rumors that seem to follow her — in fact, it looks like she's embracing all the "press!"
The eccentric music video begins with Cardi making out with a woman before she's shown sitting atop a man while the woman looks on. However, the steamy scene quickly turns violent — a recurring theme throughout the music video — when Cardi pulls out a gun. After a woman is heard screaming, the 26-year-old rapper is shown looking like a million bucks while in an interrogation room. Cardi eventually appears in a courtroom, seemingly to answer for her crimes. However, the witnesses in the room somehow wind up dead.
If that wasn't enough pushing of the envelope, while the music video shows the bloody courtroom scene it also flashes to clips of Cardi dancing fully nude with a mob of nude dancers. But, just like the witnesses, the dancers also end up dead. The video concludes with Cardi in a jail cell, killing her cellmate. #DARK
See the NSFW video HERE. (Warning: the video is graphic)
The timing of the music video is quite ironic given that Cardi was recently in a courtroom as she pled not guilty to 12 charges, including two felonies, on Tuesday (June 25). As fans know, the "Press" rapper entered her plea inside a Queens courthouse just days after a grand jury chose to indict her on multiple charges in connection to a fight at a Queens strip club in August.
The 26-year-old rapper was initially charged with two misdemeanors— reckless endangerment, and assault — for allegedly ordering an attack on the two bartenders — sisters Jade and Baddie G — at Angels Strip Club in August. (The fight reportedly went down because Cardi believed one of the bartenders slept with her husband, Offset) However, after "further investigation," the grand jury indicted Cardi on 12 charges, including 2 counts of felony attempted assault with intent to cause serious physical injury, TMZ reports. The other charges included misdemeanor reckless endangerment, assault, criminal solicitation, conspiracy, and harassment.
Despite the multiple charges against her, Cardi reportedly assured fans that she won't be going to jail while at a Los Angeles concert on Saturday (June 22). "I ain't going to jail," she told fans, per Page Six. "F**k you mean? I ain't going to jail, I got a daughter!"
Photo: Youtube